Barker Drophead Coupe
This model of a Barker Drophead coupe is based on the Pocher Sedanca. The roof section has
been removed, the coachline has been refined and accented with chromed trim strips, and the body
has been lowered on the frame. In addition to these modifications, the windshield frame has been
lowered and a pivoting windshield added and a "steel" trunk has been added, complete with tool kit and false
floor to hide the twin battery boxes. Headlights, taillights, and marker lamps work via a switch under the glove box;
the spotlight, fog light and instrument lights work via the shift lever. The engine features complete control lever detail
as well as complete plumbing and wiring. The scratch-built interior features maple burl veneer and magnolia calfskin.
This model took approximately 450 hours to construct.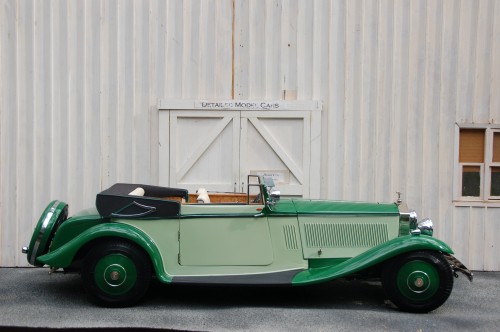 Although this looks like it is based on a Pocher Ambassador kit, a Sedanca kit
was used as the starting point. The windshield has been lowered and the body
is mounted lower on the frame. The fenders or 'wings' are resin replacements.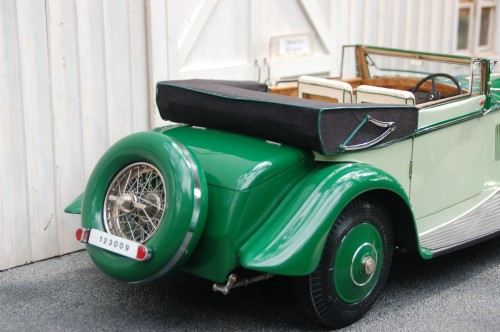 To capture the look of the Barker prototype, a trunk from the Pocher Bugatti
coupe was cut down to fit. The spare wheel cover is from the Torpedo kit.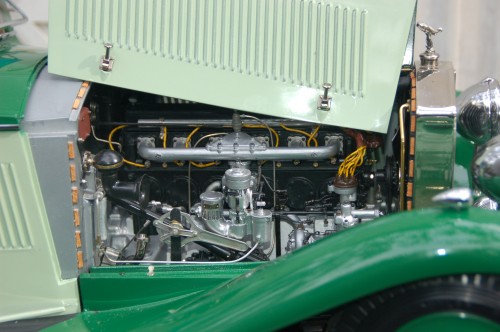 The levers on the steering wheel connect to the levers on the engine to control
the ignitions and the carburetor. Note the dandy working MMLtd. spanner.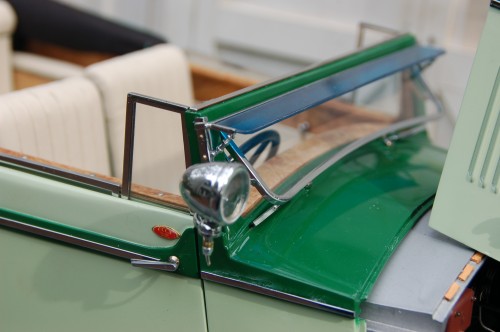 In addition to a swing-out windshield, the Barker Cabriolet has a scratch-built
sun visor, and a working and pivoting spotlight. The quarter windows are
characteristic of the Barker prototype. The red emblem is a replica of the CCCA
Senior Award.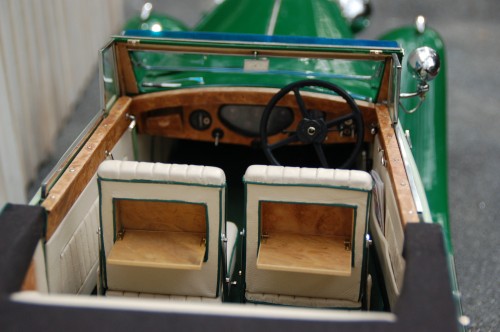 The veneered tea tables and cabinets call out for some special accessories--
perhaps some hamburgers and fries from the doll house folk.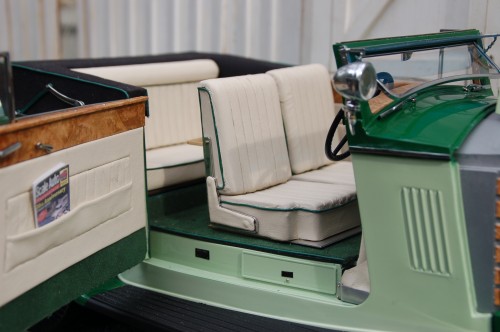 The delicate chrome strip on the coach line vies with the contrasting piping for
the viewers' attention. The panel below the floor is usually a tool compartment.
A miniature version of Scale Auto Enthusiast magazine is in the pocket of the door.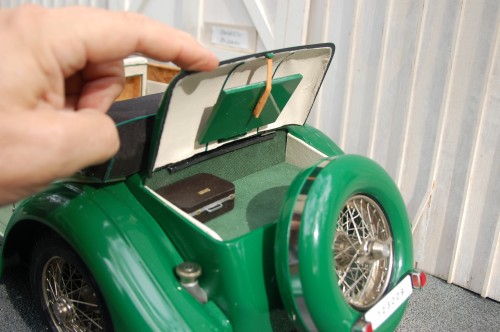 The drop-down tray contains tools, and the trunk is fully finished inside.
The batteries are hidden beneath the floor, and the trunk lid is removable to
facilitate changing the batteries.