Visitors come to Detailed Model Cars with some frequency. Here are some of them:
Here is Earl Petrikin's dandy Monza, both in his 'studio' and in
front of the DMC backdrop. A thrill for both of us. Thanks,
Earl. It was worth the wait!
Sometimes a model comes back. This one, built in 2009, returned just recently from CA for repairs.
Sometimes cars come all by themselves and don't leave.
R.J.'Jeff' Holt was kind enough to 'retire' his Fiat racer to the
care of the DMC Elves, and the Elves got so excited that they
tried to duplicate the weathering on their White Knight.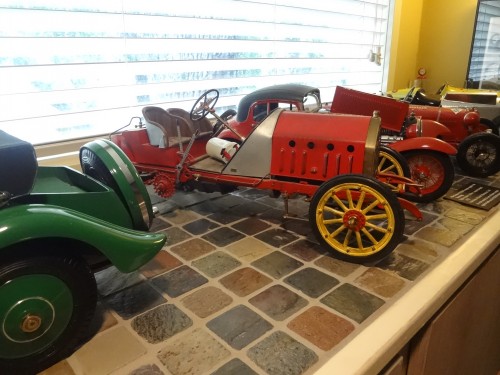 Udo and Rosie stopped by during a visit from Germany.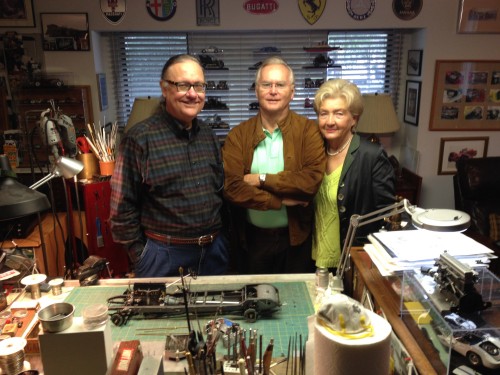 Larry Winocoor from Palm Beach wanted to trade his Merc in on a DMC model.
The Elves convinced him to let them restore his model to its original look.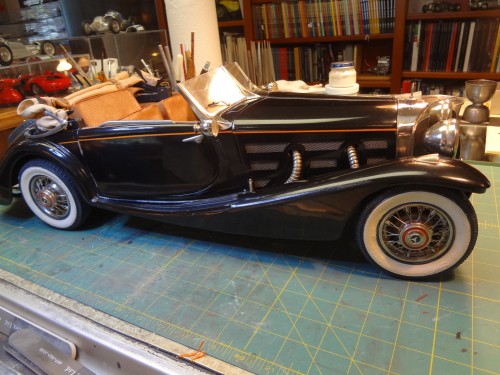 This model was built by Erwin Benner of CA, but he wanted a more finished look. The DMC Elves painted the car, installed a custom interior
and made the lights work--another one saved from the closet.
Ben Shahrabani thought that a Monza which he had bought might be improved with a re-build. From what the Elves could tell, this model
was built by one of the most prolific Pocher builders, Ed Stoltis, and they talked Ben into a gentle fluff and buff to revitalize this piece of history.
Sometimes a bit of freshening makes all the difference. This Bugatti was built by the Northern and Southern Elves when they were starting the legendary
Model Motorcars, Ltd. Since 1993, this model's owners, Jeff and Cathy Broadus, have made a number of appearances at all sorts of shows and concours d'elegance.
The model features a working differential and a dandy suede interior, one of the earliest done by the Southern Elf. A bit of spit and polish --and some new
batteries-- brought the model back to glory.
Jeff and Cathy also brought along their 500K Spezial Roadster for a quick buff and some new battery boxes. This model was used by MMLtd. as a
prototype for wndshield and dashboard parts, as well as our first K-91. It was finished in 1999. Uh oh, dust on the tonneau cover . . . .
Sometimes models stop by for a trim and haircut. This is one of Jeff Holt's projects, and he stopped by the DMC shop to get the cuts in exactly the right
places. While he was at it, he tricked the Elves into making him running board strips with the promise to come back with something really special.
Victor Ortiz came from Mexico City to show the Elves his Bimotore grand prix car which features one engine in front and one behind the driver.
This virtually scratch-built model was built from a few photos and list of dimensions.
The highlight of the visit was when we were able to photograph the DMC Bimotore A (two engines and drivelines, side by side) next to Victor's Bimotore B.
This was a wonderful visit for the Elves, and motivated the Elves to promise to visit Victor in Mexico. The Elves are a'twitter.
Some of our friends never visit. The excuses are amazing, but seldom so reasonable as Jeffry Schwartz's, who has
his hands full, his garage full, and his plate full. Everyday, the Elves listen for the purr of the Panther J-72's Jaguar
engine, but so far, it has failed to make an appearance. The Elves wait with hope in their hearts.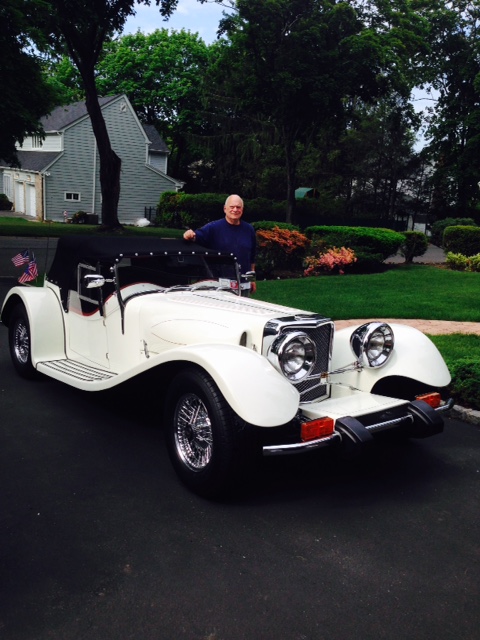 Occasionally we are approached with business suggestions. Here is Jeff Holt's suggestion for a new Customer Service Department for DMC.
We are open to suggestions, but this one, small as it is, seems harsh. He was right--it really was something special!
Sometimes our friends send us wonderful pictures of what they are doing instead of visiting us. Here Jerry Moore sends us greetings from Germany.
His scratch-built models are stunning, but then again so is his XK 120 Jaguar. You should see his TR-3!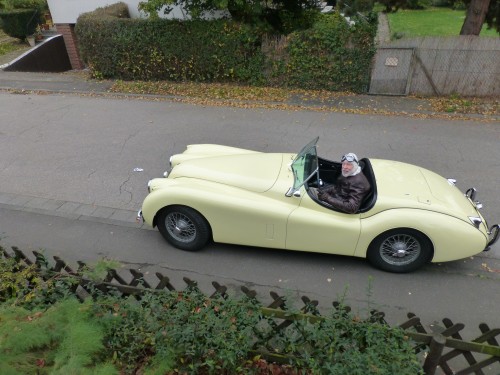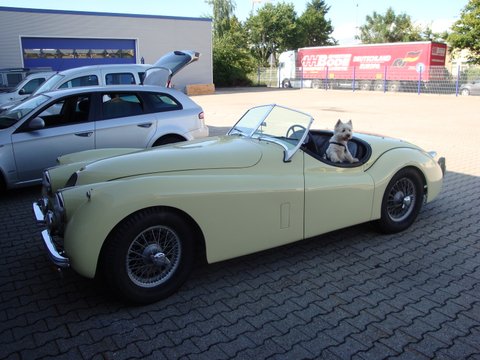 Jerry being a sport in Germany. Jerry's pal, Boy.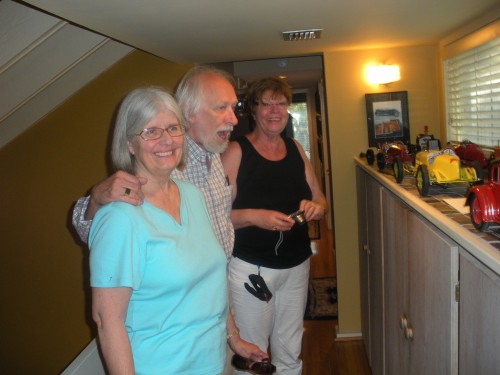 Jerry and his crew visiting in 2010; Jerry is shocked by what he sees.
Victor Ortiz managed to lure the chief Elf to Mexico with a promise to let Victor's office walls are lined with wonderful models.
the Elf drive his beautiful '69 track-ready 911S.
Mexico City proved to be colorful, friendly, and tasty! This wonderful model is based on a Pocher Fiat and it is a highlight of Victor's model collection.
Thanks, Victor, for a great visit.
Sometimes the Elves make house calls.
This rather battered Amalgam Ferrari 375 Plus arrived at the local Ferrari store in less than optimum condition. It was mounted to the display case base by means
of bolts into the oil pan and into the transaxle. Unfortunately, on the way from Amalgam, the oil pan came loose, allowing the model to tear the transaxle out. Yikes.
The replacement arrived at the Elves' shop in fine order and was soon unwrapped at its new home.
Mounted on its display case base, the replacement model looks right at home with a slightly larger 166 Barchetta behind it. The Elves packed up the busted version.